The Lakeside Hotel & Leisure Centre - Killaloe
52.81057

,

-8.44346
389US$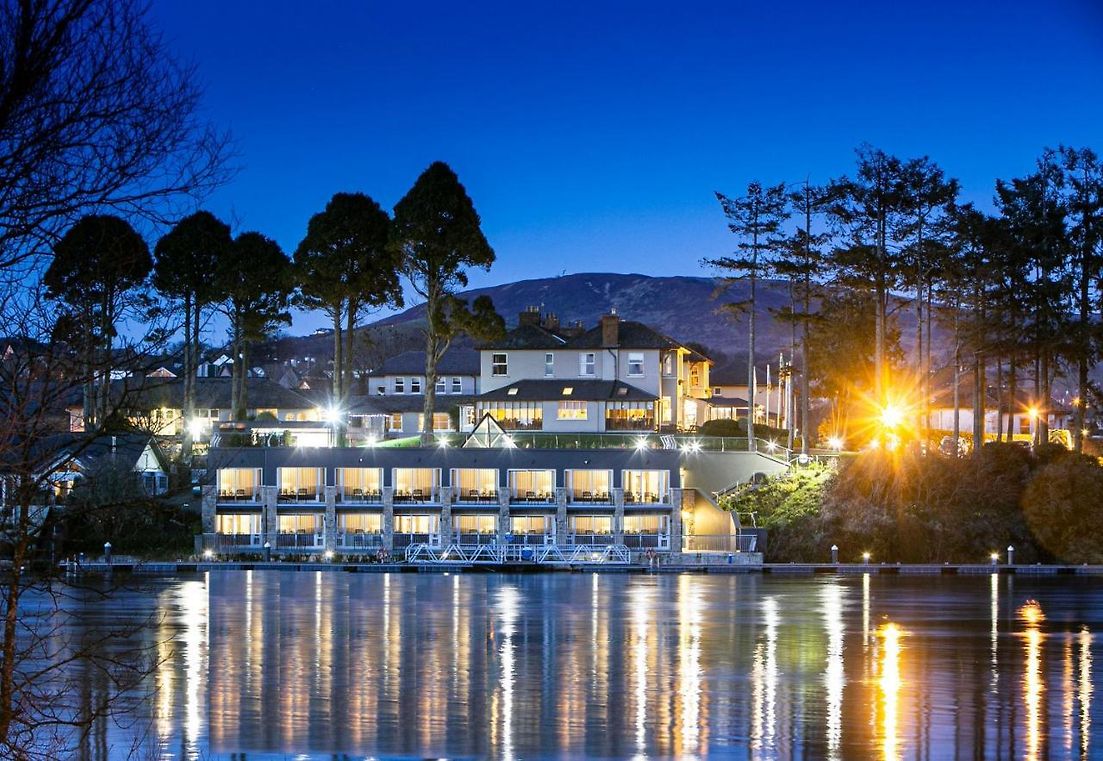 Address
Ballina
,
Killaloe
,
Ireland
, Munster
Overview
Located 75 miles from Connemara airport, this lovely 4-star Lakeside & Leisure Centre Killaloe offers free self parking, a sauna and a plunge pool for guests' convenience. Just next to the Cathedral Saint Flannan's Cathederal Church, this Killaloe hotel offers a stunning location and includes an a la carte restaurant.
Location
Located just 14 minutes on foot from St Flannan's Church, the hotel is 9 minutes' walk from Brian Boru Heritage Centre Museum. The roadtrip to Dungarvan takes 75 minutes. This lovely accommodation is a few minutes' drive from Twomilegate.
Rooms
Lakeside & Leisure Centre has 43 rooms, some of them comprise a patio and a balcony, and have self-catering options like an iron. For more comfort, robes and slippers together with a bath are provided.
Eat & Drink
Here a buffet breakfast is offered each morning. The accommodation offers its own Derg Room restaurant, where guests can try international dishes.
Leisure & Business
Meals, a kids' club and board games are available upon request. There is an aerobic center with a wide range of sports.
Internet
Wireless internet is available in public areas for free.
Guest Parking
Public parking is possible on site for free.
Number of rooms:   43.
Former name: lakeside hotel and leisure centre
Facilities
Most popular facilities
Free Wi-Fi
Free Wi-Fi in public areas
Baggage storage
Baggage storage
Locker room
24-hour services
24-hour reception
24-hour security
Food/ Drinks
Bar/ Lounge area
Restaurant
Swimming pool
Indoor swimming pool
Plunge pool
General
Free Wi-Fi
Parking
Baggage storage
24-hour services
Food/ Drinks
Fitness/ Gym
Swimming pool
Spa and relaxation
Sports & Fitness
Fitness center
Sports trainer
Services
Room service
Laundry
Dry cleaning
Tours/Ticket assistance
Dining
In-room breakfast
Restaurant
Bar/ Lounge area
Packed lunches
Special diet menus
Business
Meeting/ Banquet facilities
Fax/Photocopying
Children
Babysitting/Child services
Children's buffet
Board games
Children's pool
Water slides
Kids club
Spa & Leisure
Plunge pool
Indoor swimming pool
Live entertainment
Garden area
BBQ facilities
Leisure/ TV room
Sauna
Steam room
Jacuzzi
Shallow end
Room features
Heating
Patio
Terrace
Garden furniture
Tea and coffee facilities
Media
Flat-screen TV
AM/FM alarm clock
Good to know
Check-in
from 16:00-20:00
FREE
Check-out
from 11:00-12:00
FREE
Children & extra beds
There are no cribs provided in a room. 
Pets
Pets are not allowed.
Rooms and availability


Bed options:

2 Single beds or 1 Double bed

2 Single beds

Max:

2 persons
Landscape view

Shower

Heating

Bathtub

Lake view

Shower

Coffee machine

Bathtub

Balcony
Location
Ballina
,
Killaloe
,
Ireland
, Munster
City landmarks
Nearby
Restaurants
The Bridge Lough House
Brian Boru Heritage Centre
2300 ft
Parish Office,
St Flannan's Church
3600 ft
Church
Saint Flannan's Cathederal
2000 ft
Bridge House
Killaloe Heritage Centre and Tourist Information
800 ft
Spirit of Lough Derg
1600 ft
Restaurant
Flanagan's on the Lake
600 ft
Restaurant
Tuscany Bistro Ballina
2100 ft
Restaurant
Brian Boru on the hill & Restaurant
2500 ft
You can book a shuttle, once your reservation is complete.
Reviews
Jacob

Special note of thanks to receptionist. Their service was helpful. Great spot;))

Not obvious to find!

Wayne

Great hotel by Shannon. Good place all in all. We enjoyed it and will choose it for sure next trip.

missing

The hotel is in a superb location overlooking the River Shannon. Our group enjoyed good wholesome food at reasonable cost and served by very friendly staff. The hotel boasts magnificent gardens for young and old alike to wander in. Our group consisted of a mature sophisticated 'hen party' and from the moment of our arrival the staff embraced and joined in the fun and banter of the occasion without the slightest hesitation. We look forward to returning to the Lakeside for a birthday occasion shortly and I can't wait. Well done to the Hotel and Staff -

I liked everything about the Hotel and the staff who were most obliging and served us complimentary tea & sandwiches on our late return to the hotel on Saturday night. Many thanks again.

missing

friendliness of the staff, comfortable room, fine breakfast, stunning scenery

missing

The hotel was lovely we were at a wedding there the food was yum for the wedding meal. hotel room was very nice 3 beds and a cot (if we had a family we would be sorted) girls in reception were very nice. looked lovely outside but it was -100 degrees so couldnt go outside. cant comment on the breakfast as i was a bit too hungover but all in all would def recommend it

missing

The Noise we experienced on our last night stay was very disturbing due to a wedding party that went on after 5:30am and stop both myself and my wife from having a good nights sleep. The very loud singing and shouting was not in keeping with this establishment as there is a Ballroom at this venue which should be used for such events so as not to disturb other hotel guests.

missing

Needed hoovering, and window cleaning. Bar staff could be more accommodating a bit more friendly. Reception staff very helpful and happy. The internal windows in dining room quite grubby and full of finger marks. They would need to brush up on their attention to detail.

missing

Friendly place to stay great location with very good food. Nice size rooms with very comfy beds and the staff are very helpful I will go out of my way to stay there

missing

very nice lovely hotel staff very friendly.

missing

Pure luxury , fantastic we stayed there as was attending a wedding in hotel , also beautiful leisure centre pool etc , excellent food :-)

missing

The Staff were excellent. Food was great, location great also. We were attending a wedding , great venue.

Unbelievable checking in times. I ran a major racecourse in Dublin for a number of years, where we catered for 20000 people On an average race day. Your hotel booked a wedding at 3pm and your check in time is 3pm. In this day and age, service is paramount to good business. Your event co-ordinator needs to reassess this. Move the wedding to 4pm!! Not rocket science.We travelled from Dublin.Or hire a couple of extra cleaners if you cant turn a few bedrooms around in an efficient manner.!! You should check out the service in other hotels and see how other hotels go the extra mile for their guests, especially in a recession!! You are in the hospitality business, be a bit more hospitibal!!!!Or use common sense!!

missing

Excellent staff, very friendly manner. Food in bar excellent and breakfast variety superb, would recommend to family and friends. Location breathtaking, especially looking out at from the breakfast table ! A lovely stay all round.

missing

Unfortunately we were in room 105 which on the Saturday night was above the smoking hut and with a dinner dance on meant noise until about 2.30am. This was followed by loud talking in the corridor as the room is at the top of the stairs and everyone stopped to have a final chat before going to bed, this was made worse when a prolonged arguement took place close to our room trying to get a person to bed, this went on to 5.30am. In future we would ask for a room with a different perspective. The Sunday evening was quiet and peaceful. This incident was unfortunate and wpold not put us off staying again.

missing

The staff were very helpful and friendly and the hotel had a great atmosphere. The food was very tasty and the hotel rooms were comfortable. The cost was also affordable.

missing

Location

Lack of hairdryers, inaccessibility of plugs for kettle, no room service menu, no food after 9.00am Poor slow attention from bar staff serving food
FAQ
What is the nearest airport to The Lakeside Hotel & Leisure Centre Killaloe?
The Lakeside Hotel & Leisure Centre Killaloe lies within 75 miles of Connemara airport.
At what time can I check-in at The Lakeside Hotel & Leisure Centre?
At The Lakeside Hotel & Leisure Centre you can check in from 4 PM till 8 PM.
Are there any facilities for children at The Lakeside Hotel & Leisure Centre?
Yes, The Lakeside Hotel & Leisure Centre offers meals, a kids' club and board games.
How far is The Lakeside Hotel & Leisure Centre located from the city center?
The city center is located 10 minutes' walk away from The Lakeside Hotel & Leisure Centre.
Does The Lakeside Hotel & Leisure Centre Killaloe feature any cleaning services?
Yes, The Lakeside Hotel & Leisure Centre Killaloe offers laundry.
What are the dining options at The Lakeside Hotel & Leisure Centre?
The Lakeside Hotel & Leisure Centre offers Derg Room restaurant, which serves international meals.
Is there any Internet available at The Lakeside Hotel & Leisure Centre Killaloe?
Yes, at The Lakeside Hotel & Leisure Centre Killaloe Wi Fi is provided in public areas.
What interesting sites can I visit not far from The Lakeside Hotel & Leisure Centre?
Landmarks near The Lakeside Hotel & Leisure Centre include Saint Flannan's Cathederal as well as St. John's Church.
What leisure facilities are provided at The Lakeside Hotel & Leisure Centre?
You can enjoy water slides and a bar available in The Lakeside Hotel & Leisure Centre.
Are there any dining facilities close to The Lakeside Hotel & Leisure Centre Killaloe?
You will be able to enjoy a meal in nearby establishments, Simply Delicious and Boruma Gastro Bar, since they are located just about 7 minutes' walk away from The Lakeside Hotel & Leisure Centre Killaloe.
How much does a room at The Lakeside Hotel & Leisure Centre cost?
The prices at The Lakeside Hotel & Leisure Centre start from €260.